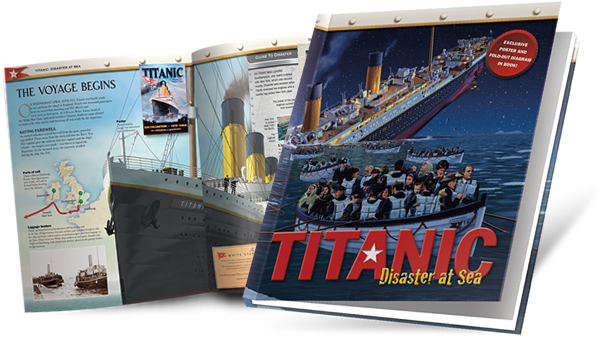 Includes Gatefold & Pull-Out Poster!
Titanic: Disaster at Sea
Experience all the drama and tragedy of Titanic inside the pages of this richly illustrated narrative. With a pull-out poster and double gatefold diagram, Titanic: Disaster at Sea is brimming with facts, stories, and fascinating people. From the technological creativity of Titanic's construction to unselfish sacrifice in the face of disaster, this comprehensive book will satisfy readers with its exciting, up-close look at this amazing true story of triumph and tragedy.
ISBN: 978-1-4296-7527-7
Trim: 10 x 11 3/4
Hardcover Price: $17.95
Page Count: 64
Available: February 2012

Commemorate the Titanic's disastrous voyage with Capstone titles that honor the legacy of the Titanic. From the fascinating fact-filled Titanic: Disaster at Sea to the fast-paced fiction series Return to Titanic, Capstone has titles for every reader.

Sign Up To Receive
Your Free 100-Year
Anniversary Poster

Return to Titanic
Tucker and Maya thought their spring break stuck working at the local museum would be boring - but when they discover a "Special Collection" of Titanic artifacts in the museum's storeroom, everything changes. They discover the artifacts have the power to send them back in time to the Titanic itself. Now they must try to change the fate of a new friend traveling on the doomed ocean liner before time runs out for everyone onboard.

Series ISBN: 978-1-4342-3848-1
Trim: 5 1/4 x 7 1/2
Paperback Price: $6.95 per book
Page Count: 112
Available: February 2012

Escaping Titanic: A Young Girl's True Story of Survival
Commemorate the Titanic's disastrous voyage with this harrowing tale of survival. Follow the true story of young Ruth Elizabeth Becker as her awe of the mighty Titanic turns to horror when she is separated from her mother and siblings.

ISBN: 978-1-4048-7235-6
Trim: 8 x 10
Paperback Price: $8.95
Page Count: 32
Available: February 2012

Your Life as a Cabin Attendant on the Titanic
Stylish illustrations and narrative text take readers back to periods in history much different than what they know today. This book introduces daily life, food, work, and home life of a cabin attendant on the Titanic.

ISBN: 978-1-4048-7248-6
Trim: 8 x 10
Paperback Price: $7.95
Page Count: 24
Available: Now

The Sinking of the Titanic
Tells the story of the 1912 sinking of the Titanic in graphic-novel format. Also available in Spanish.

ISBN: 978-0-7368-5247-0
Trim: 7 x 9
Paperback Price: $7.95
Page Count: 32
Available: Now

The Titanic
A history of the Titanic and a recounting of one of the worst maritime disasters in history.

ISBN: 978-0-7565-1045-9
Trim: 7 1/2 x 9
Paperback Price: $7.95
Page Count: 48
Available: Now

Can You Survive the Titanic?: An Interactive Survival Adventure
You are a passenger on the most spectacular ocean liner ever built—the Titanic. When the ship hits an iceberg and begins to sink, it's going to take more than luck to survive. YOU CHOOSE what you'll do next. The choices you make will either lead you to safety—or to doom.

ISBN: 978-1-4296-7351-8
Trim: 5 1/4 x 7 1/2
Paperback Price: $6.95
Page Count: 112
Available: Now

Titanic: An Interactive History Adventure
YOU are aboard the Titanic, the world's largest ocean liner. The ship is sinking, and the ocean water is freezing. Will you survive?

ISBN: 978-1-4296-1182-4
Trim: 5 1/4 x 7 1/2
Paperback Price: $6.95
Page Count: 112
Available: Now

Anatomy of a Shipwreck
When the Titanic was built, many people thought the massive ship was unsinkable. Today it rests on the ocean floor. Learn about why ships sink and how past disasters and modern technology have led to safer ships.

ISBN: 978-1-4296-7367-9
Trim: 6 x 9
Paperback Price: $9.95
Page Count: 48
Available: Now

The First and Final Voyage: The Sinking of the Titanic
On April 10, 1912, fourteen-year-old Christopher Watkins boards the Titanic with his family. While sailing across the Atlantic, the giant ship strikes an iceberg and begins to sink! Christopher must quickly find a way to save his family.

ISBN: 978-1-4342-0494-3
Trim: 5 3/4 x 8 1/4
Paperback Price: $5.95
Page Count: 56
Available: Now

Exploring Titanic: An Isabel Soto History Adventure
Dr. Isabel Soto is an archaeologist and world explorer. Readers join Izzy on her journey through the Titanic.

ISBN: 978-1-4296-3892-0
Trim: 7 x 9
Paperback Price: $7.95
Page Count: 32
Available: Now